Our Equipment

Pinnacle Tree Service has all the professional equipment, trucks and personnel needed to perform your tree service projects. When access of our equipment is not an option, we have expert climbing technicians to prune or remove your trees. It is very important when hiring a tree company that you understand what equipment will be used and how that affects the process in which the work will be performed. There are many shortcuts in this industry, many of which cause the customer to become upset or disappointed. At Pinnacle Tree Service we pride ourselves on providing the customer an extremely professional job at a fair price, while maintaining your yard as if it were our own.

Here are some examples of the equipment we use to professionally prune or remove your trees: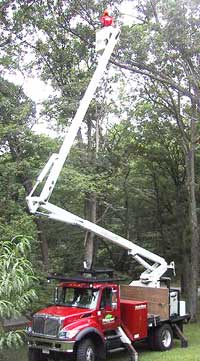 60' Aerial Bucket Truck - For pruning or removing large trees growing over your home and other items on your property. Using the bucket truck allows for more efficient and effortless pruning and removals.


Expert Climbing Technician - When bucket access is not possible, we have expert climbers who are skilled in rope and saddle climbing. When pruning Oaks, Elms and fruit trees our climbers do not use tree spikes, which can cause damage to your trees. Our expert climbers are proficient in technical roping and rigging methods. This allows to safely remove large limbs and trees without jeopardizing your personal property, other trees, lawn and landscape features.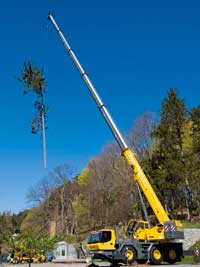 Large Crane - When removing extremely large trees or trees that have snapped off onto your home during a storm, assistance with a large crane is the best method available. This reduces time, protects your assets and is always the safest means of removal. Rather than trying to rope and rig large branches and tree sections down, by implementing the use of a large crane, we lift portions of the tree up and over obstacles. This eliminates numerous problems and time consuming scenarios which could occur. This in turn, allows us to work more efficiently and safely, saving the homeowner money.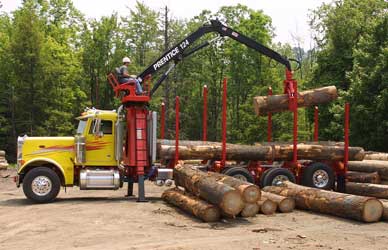 Log Loader Truck - Pinnacle uses their log loader trucks for many scenarios.

1. For lifting heaving tree trunks or branches off your home or other items during a storm.

2. For removal of logs off your property.

3. For removing brush piles from your property.

4. Removing large piles of buckthorn trees which are hard to run through a chipper.

5. For assistance in slowly felling or lowering a large tree trunk to the ground with out slamming it into your lawn or landscape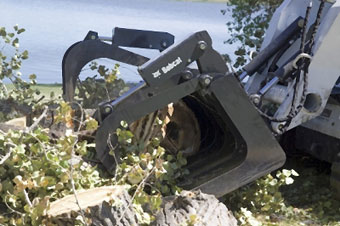 Bobcat with grapple - For removing large branches, logs and tree debris we implement these pieces of equipment. This saves large amounts of time and manual labor. When maintaining your lawn and landscape is a concern, Pinnacle uses an ASV unit. This rubber tracked machine puts out the lowest pound per square inch and floats nicely in yards. Bobcats are generally used for wooded lot clean up, land and lot clearing and areas where they can be driven on a hard surface such as a driveway or path.